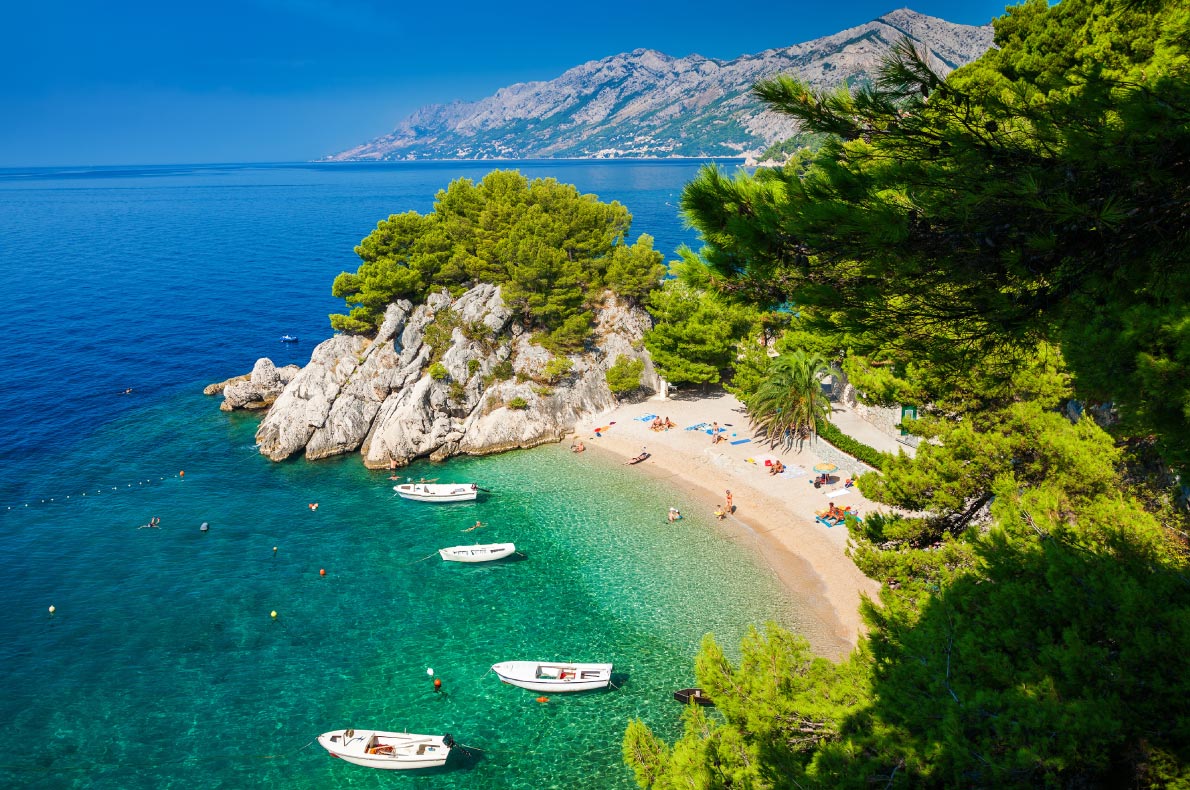 Weather in Croatia 
Inland Croatia has a continental climate, warm in summer, cold in winter. In Zagreb, the temperature is often 32 C+ (90 F) in high summer (late June to mid-August) and the city center feels oppressively hot. September and October are usually settled and warm, giving way to colder, foggy weather in November. December and January are the coldest months, with heavy hoar frost, snow, and temperatures as low as -14 C (6 F). In the mountains, it is even colder, often with heavy snow. From early March temperatures start to rise, although April and May can be wet. The coast is typically Mediterranean with mild, rainy winters and long, dry summer. In winter, when the snow starts to thaw, it is liable to slide off roofs and crash onto the pavement. If you see a piece of wood propped against a building and blocking the pavement, give it a wide berth; it means there's unstable snow on the roof above!
Money
The currency in the Republic of Croatia is Kuna (HRK, kn), which is divided into 100 lipas (lp).
You can also pay many things with Euro, like accommodation, meals in restaurants, pay-tolls on Croatian roads, and gasoline. However you'll usually get your change in Kuna, and the exchange rate can be less favorable than at the exchange offices.
Notes and coins currently in circulation are as follows:
Bank notes : 1000 kn, 500 kn, 200 kn, 100 kn, 50 kn, 20 kn, 10 kn
Coins : 25 kn (rare), 5 kn, 2 kn, 1 kn, 50 lp, 20 lp, 10 lp, 5 lp, 1 lp
Foreign currencies can be exchanged at banks, exchange offices, post offices and at most tourist agencies, hotels, camps and marinas. Exchange rates are as follows (rates are given as an indication only): EUR 1 7.64 Kn; USD 1 6.99 Kn; GBP 1 10.41 Kn; CHF 1 7.05 Kn.
Additional information can be found at http://www.hnb.hr/tecajn/
All major credit cards – Visa, American Express, Diners Club and Eurocard/Mastercard are accepted almost everywhere. The debit card Maestro is also widely used. Cash dispensing machines/ ATMs are easily found in the area.
Public Holidays
1 January: New Year's Day
6 January: Holy Trinity or Epiphany
1 May: International Labor Day or May Day
22 June: Anti-Fascism Day
25 June: National State Day
5 August: Homeland/National Thanksgiving Day
15 August: Assumption
8 October: Independence Day
1 November: All Saints' day
25 December: Christmas
26 December: St Stephen's Day
Easter Sunday and Monday (N.B. Easter dates change each year. Good Friday is not a public holiday).
All holidays are taken on the date shown, regardless of the day of the week on which they fall.
Best time to go
The best time to visit Croatia is in June and September. There are far fewer people around (definitely no queues, traffic jams, nor crowded beaches), the weather is still warm and sunny, prices are more affordable, and the sea is warm enough to swim in. Another tip: Sea is usually warmer in September than in June.
*Featured picture is the property of Zagreb Tourist Board/ author: D. Rostuhar