Guide to living in Zagreb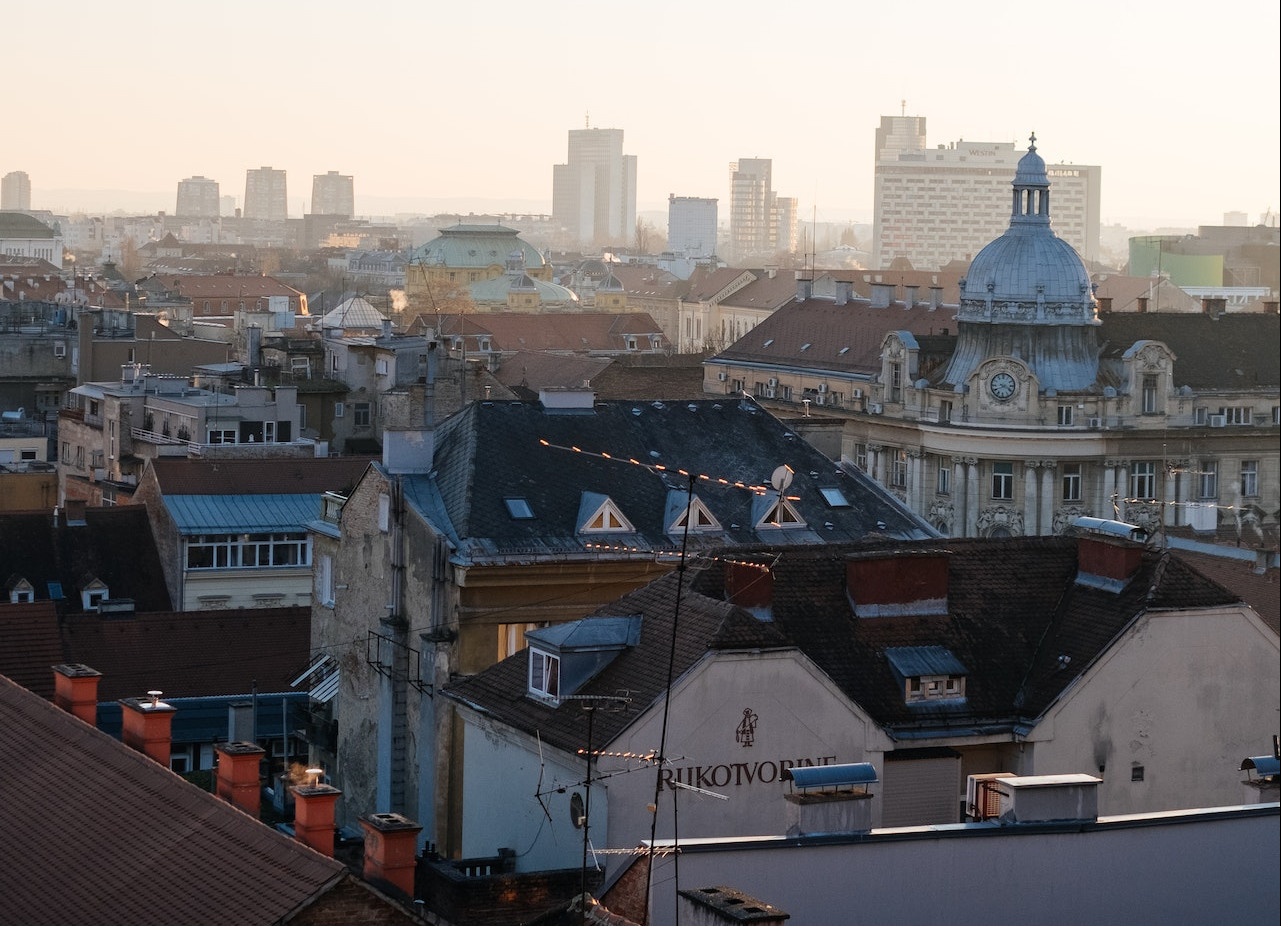 STUDENT GUIDE
Welcome to Zagreb
You have decided to choose Zagreb as your Erasmus destination and we are glad about that. We hope you will enjoy your stay and for that we have prepared this guide. We know the challenges of coming to a new country, the cultural differences can be difficult at first so this guide will provide you with tips, interesting facts and information about life in Zagreb.  
In each section you will find recommendations for entertainment and relevant information to help you move around the city like a local.  
Before you move to Zagreb contact your university so that you have all the necessary documentation available and prepared.  
Why go abroad?
Studying abroad is the motivation of most students during their studies, and the advantages of participating in an international program are many. The main reasons for doing an Erasmus are: 
Travel: Going on Erasmus opens your mind and produces a restlessness to travel. Knowing new cultures and getting lost in the magnitude of these makes you grow personally. New languages and new people with whom you share all kinds of adventures.  
Meeting new people: Getting out of your comfort zone and putting yourself in the situation of starting from scratch not knowing anyone can be a very intimidating feeling. But it is important to keep in mind that all people who go on Erasmus have the same mentality, which is to have the best time of their lives. So, open your mind and leave all your prejudices about cultures behind. You will be surprised how many people you will meet. 
Languages: Enriching yourself with people from different cultures opens the doors to new languages. You may not have enough time in one semester to learn the language completely but you will be left with words and your vocabulary will expand. In addition, English is the most practiced language in Erasmus so you will have the opportunity to expand your skills.
Independence: Erasmus is the perfect opportunity to see your ability to live away from home and have your own independence. This requires you to be responsible with everything as there will be no one behind you to guide you or tell you what you should and should not do.
TIPS
Accept that the first few days-weeks will be difficult, but it is a process of adaptation. 

Have an open mind
Be active
Do the paperwork at the beginning of everything
About Zagreb
Zagreb is the capital of Croatia, is the cultural and economic-political center of the country. It is the most populated city in the country and has 802,338 inhabitants. The area on which Zagreb sits has been inhabited since the Roman Empire. The city illustrates both the Mediterranean and Continental spirits.
The buildings are a reflection of the flow of history while the streets and squares are a pure union of cultures that have polished the personality of the city.  
Zagreb is very safe and welcoming to all visitors, a city with a lot of history to discover, full of personality, certainly a plate of surprises that will leave you wanting more.  
Curiosities of Zagreb 
The cultural curiosities of a city are what makes them unique, visiting new cities opens the doors for one to be enriched with curious facts and thus take a better memory of the city visited.  
 Zagreb has several curious facts that you will not take long to decode once you visit the city, but we provide them for you to go more prepared. 
 Zagreb has the shortest funicular in the world, it is 66 meters long and it is located right on the longest street in the city. It was in 1890 when it took its passengers up for the first time, which makes it the oldest means of transport in the city.
 This fact is more of the country than of the city, Croatia is the country that created the tie. In the 17th century, soldiers wore neckerchiefs wrapped around their necks when they served the French King during the Thirty Years' War. The French embraced it as part of their local dress and as a symbol of elegance.  
One of the most widely used utensils in the world, the pen, was born in Zagreb. The innovator and engineer Eduard Slavoljub Penkala created the first mechanical pencil in 1906, giving birth in the following years to the first firm ink pen and formalizing the patent for it in 1907. 
 The famous Gric Cannon, a long standing and very well-known symbol of the city, has been announced when it is noon to Zagreb's residents every single day since way back in 1877. Every day at 12 o'clock, the Lotrscak tower and other buildings shake by a huge "boom". A very shocking experience for those who don't know it. 
 The official color of the city is Blue, all public transport systems are of the same color, both tram, bus and funicular. In addition, all Zagreb sports teams' equipment is colored blue. 
The city contains more than 30 museums and galleries, they are culture lovers and express it in different ways. You can find both historical and entertaining museums to pass the time. 
Get Involved
Student life can be hard at times, but the Erasmus experience makes it all worthwhile. Living the experience to the fullest is a must, you don't want to go home with the feeling that you didn't get the most out of it.
Being part of the student community opens many doors to meet new people and new cultures.  
A great way to meet new people and make all kinds of plans is to be part of the ESN Zagreb clan. ESN is a worldwide student organization where they help students from all over the world to get to know each other and improve the student experience. 
Here you will meet students who are doing their international experience in the same city and you will have millions of opportunities to meet them and make plans.  
ESN has several offices in Zagreb and they are located in the center of the city, to become a member of them is very easy, go to the offices and they will make you the corresponding cards.
With these cards besides being able to go on all the planned excursions and trips you can also enjoy discounts in restaurants and museums.  
In addition to ESN there are also many student organizations and clubs at all universities in Zagreb, so do not forget to find out about them once you arrive at the university.  
Improve your student experience professionally
Having a good time and an international experience are key aspects of Erasmus, but, on the other hand, it also contributes positively to one's professional aspect. It helps to reinforce the curriculum, as well as improves one's intercultural understanding.  
 Being part of the international experience, regardless of the profession you will do, helps significantly in the CV and increases the chances of employment. By having the experience in an international country, the culture and education are different so the tools obtained are unique and impossible to get in your home country.  
 On the other hand, the experience of learning a new language besides being enriching also helps in the job search, nowadays many employers are looking for graduates with international experience and with a wide variety of languages. Networking is also part of the things you can do during your experience to get the most out of it.  
Shape your future
For shaping your future, it is essential to be active during your stay. Traveling and having fun is essential for a big part of your Erasmus experience, but time flies and the more active you are the more satisfied you will be once your experience is over.  
If you are going to be in Zagreb for more than one semester looking for an internship related to your field of study would be a valuable addition to both your CV and your experience. You will have the opportunity to get to know how people work in the city and you will be able to compare it with the business culture of your country. 
Visit Zagreb
Zagreb has many attractions to see and visit, the city not being extremely large, most of them are within walking distance, so access is quick. The main three attractions are Zagreb Cathedral, Mirogoj Cemetery and St. Mark's Church, but the city has much more to offer.
The best way to explore the city is walking, the city is full of historical monuments, plus you can find all kinds of museums, hotels and restaurants considered the best in the country.  
Here are some of the attractions to visit in Zagreb:
Tkalčićeva Street Zagreb, a street full of bars and life

Stone Gate

The Lotrščak Tower and Grič cannon

Dolac Market

National Library of Zagreb 

Zagreb Upper Town
Zagreb Parks
Maksimir Park

Botanical Garden

Art Park

Castle of Zagreb

Zoo of Zagreb

Zagreb cemetery
Museums in Zagreb
Croatian museum of Naive Art

Mimara Museum

Museum of Broken Relationships

Museum of Illusions

Zagreb's 80's museum

War photography museum

Archaeological Museum

Zagreb City Museum
Festivals in Zagreb
IN music Festival–> June

Restaurant week –> October

International Caricature Festival–> March

Dance week festival –> June

Festival of lights –>March

Christmas Advent in Zagreb, Christmas market

—

> December

Beer Festival–> May

Food Truck Festival –>  May – June
Student life in Zagreb
Life in Zagreb is quite relaxed, being centrally located and has both Mediterranean and Southeastern European characteristics. Croatia is an attractive destination for many international students thanks to its low cost of living, compared to many other countries in Europe.
Another reason why students choose Zagreb as a destination is the wide variety of institutions, such as universities.  
 As for the student life, it is quite vibrant and varied, you can find people of different nationalities and cultures. As for the culture in Zagreb you can see how once the good weather arrives the terraces of many of the bars are filled with people enjoying the wide variety of beers on offer.  
 Another site visited by students is the Maksimir Park, the park is based on 316 hectares full of life and nature, another favorite place for picnics and exercise once the good weather arrives.  
Night life in Zagreb
As for the nightlife, Zagreb has many bars and clubs where you can enjoy all kinds of atmospheres. Tkalčićeva street in Zagreb has many bars and restaurants full of people and a good atmosphere.
As for the night clubs, now that the pandemic contagions have subsided the nightlife has returned to normal so many clubs have reopened their doors in public.
From jazz, to funk and alternative music, to new and old R&B, as well as to hip hop with the rhythms of electronic music, Zagreb's nightlife offers you something for everyone's taste. Here are some of the most popular and favorite places for young people in the city:
The Best

Ritz Club

Opera Club

Gallery Club

Aquarius Klub

Johann Franck
Restaurants in Zagreb
Home Cooked food: Kod Sime

Fish and Calamari: Ribice and Mimice

Burek on dolac marketž

Balkan style grill: Tvornica pljeskavica Kosta

Burgers: Submarine and Burger Bar

Pizza: Duksa

Strukle: La struk and Le Bistro

Bakery: Bread Club

Cakes: Vincek

Wide variety of different foods: Nokturno
Bars (mostly beer)
Mali Medo

Tolkien's House

Craft Room

Ro&Do

All In

The Garden Brewery

Old Pharmacy Pub
Transportation In Zagreb
The downtown public transport is mainly based on the tram, in matters of the surrounding towns, the bus and train are the most used transport by the citizens. The company that supports all these systems is ZET. During the day, all lines run on average every 5-10 minutes, but almost all stations serve at least two routes. Night lines have schedules with an average of 40 minutes.
Places to visit near Zagreb 
Istria

Rijeka

Opatia

Krk

Pula

Rovinj

Plitvice Lake 
Dalmatia

Zadar

Sibenik

Trogir

Split

Dubrovnik
Islands of Croatia

Vis

Brac

Hvar

Korcula

Mljet
Places to visit outside Croatia
Zagreb is in a good location to enjoy all the countries that are near or around it. Another positive aspect is that Ryanair has one of the destinations, Zagreb, so there are many cities that can be reached at very cheap prices. On the other hand, there are many countries and cities that are very close to Croatia where you can access quickly with FlixBus, another alternative to travel cheaply.  
By plane

Milan

Sofia

Thessaloniki

Oslo

Paris

Rome

Manchester

Bratislava
By bus

Budapest

Ljubljana

Vienna 

Belgrade
Sarajevo