Three main dishes and three desserts that you can prepare with your flatmate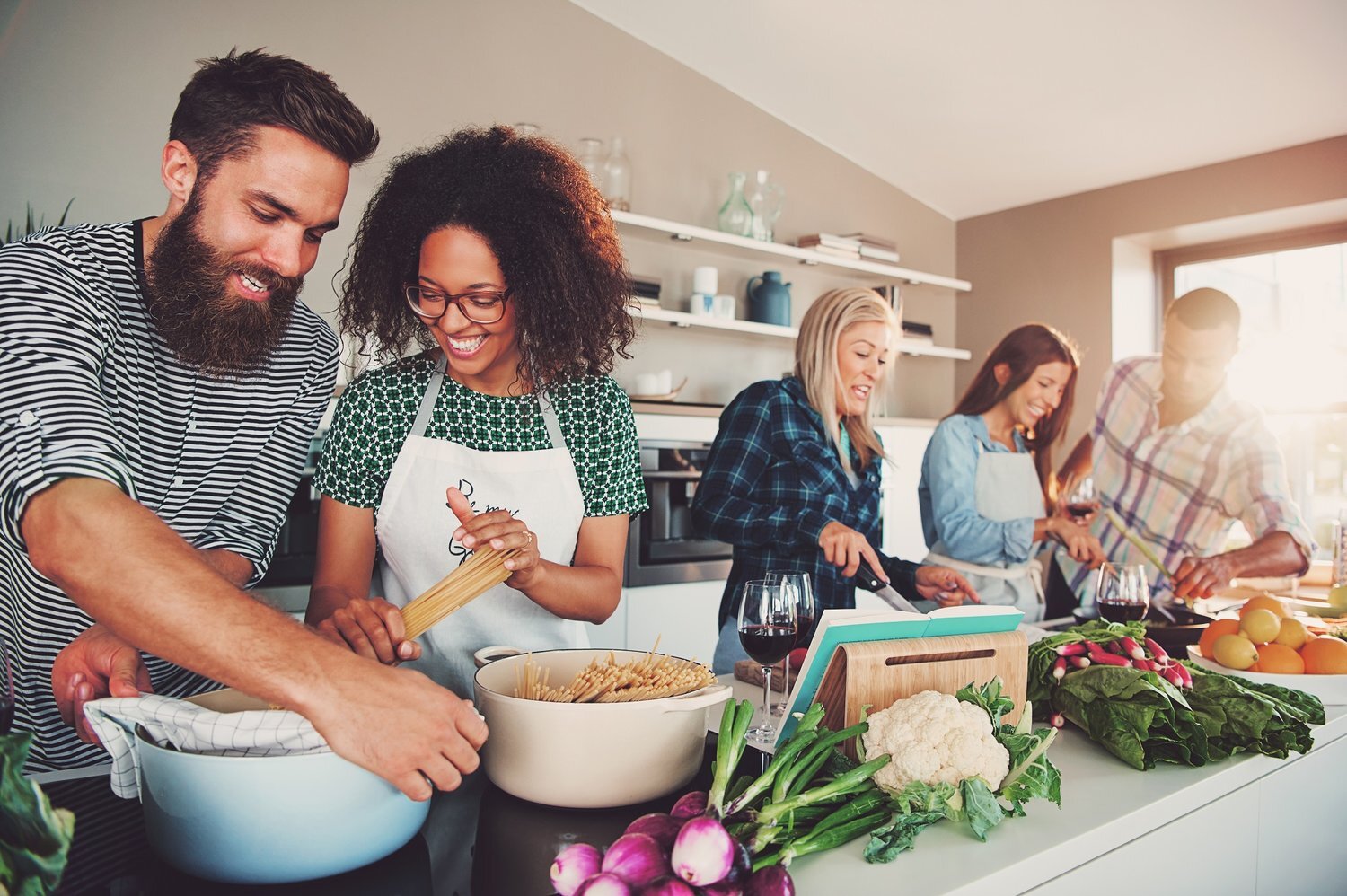 Are you bored of always eating the same things? Here we bring you easy recipes to prepare with your flatmate. Everything you need to know about the dishes, both the ingredients and the preparation, you will find under each dish's image!
---
Main dishes
1. Zucchini rolls

Ingredients
Zucchini rolls are one of the easiest ways to create a recipe with vegetables. To prepare this dish you only need: 4 zucchini's (palm size), olive oil, 1/2 cup ricotta, 1 small egg (optional), 1/4 cup Parmigiano, basil (optional), pinch of salt (to taste), marinara sauce (1 cup or as much as you like), 1/3 cup mozzarella (as much as you like).
How to prepare
Pre-heat oven to 400F.
Wash the zucchini, pat dry and cut the ends. Cut each one into 4 slices. The two end pieces we also cut from the back of each one so that they lay flat and are easy to roll. Don't discard any peeled scraps as you can use them in your cooking for other recipes.
Set them on a baking sheet and drizzle each side with olive oil plus a dash of salt.
Bake until they are soft which will take you 15-20 min. Ours took 15 minutes. Take them out and let them cool a touch.
In a separate bowl mix the ricotta, parm, egg, dash of salt and basil.
Take a small pan (we used 8 by 8) and add marinara sauce to cover the bottom (we used our own homemade sugo which is on my highlights but you can use any store-bought like Rao's).
Take each zucchini with the wider side facing you and add about a teaspoon of ricotta to each one and roll them up.
Add them all to your baking dish, top with more marinara and some mozzarella.
Bake at 400F for 20 minutes or until nice and melted. Enjoy, and follow me for more.
2. Pasta with tuna and cheese (optional)

Ingredients
Macaroni or spaghetti is one of the most typical dishes in the world. In this case, you will need these ingredients: Pasta, olive oil, frozen diced onion (or fresh), frozen diced bell pepper (or fresh), minced garlic, Greek seasoning or dried oregano, diced tomatoes, canned tuna and mozzarella cheese or mixed with other cheese.
How to prepare
Preheat the oven to 400F / fan assisted 180C / 200C / gas 6.
Cook the pasta according to the packet instructions until almost done. You want the pasta al dente.
Heat the oil in a frying pan, add the diced onion and pepper cook for about 6 minutes until soft.
Stir in the garlic for 30 seconds until fragrant and mix in the diced tomatoes and simmer for 20 minutes.
Remove from the heat, stir in the cooked pasta and tuna and transfer into a casserole dish.
Add the cheese on top and bake for 20 minutes until the cheese is melted.

3. Chicken with vegetables

Ingredients
If you want to prepare an easy and delicious dish for many people, here is the ideal dish. For that you need: 1 lb. bone-in, skin-on chicken thighs, 1 lb. bone-in, skin-on chicken wings or drumsticks, 1 1/2 lbs. baby red potatoes, quartered, 10 carrots, chopped into 1/4 inch thick sticks, Kosher salt and pepper, to taste, 1 Tablespoon olive oil, 2 teaspoons balsamic vinegar, 1/2 cup prepared basil pesto and 2 cloves garlic, minced.
How to prepare
Preheat the oven to 400 degrees and line a large baking sheet with aluminum foil.
Spread the carrots, potatoes, and chicken out on the baking sheet. Generously sprinkle everything with Kosher salt and black pepper. It should look like light snow has fallen on everything.
In a mixing bowl, stir together the olive oil, balsamic, pesto, and garlic. Rub the mixture all over the chicken and veggies.
Place in the oven and bake for 40-50 minutes, or until vegetables are tender and chicken registers at least 165 degrees. If the chicken skin isn't super brown or crispy, place the chicken under the broiler for an additional 2-3 minutes to crisp up.
---
Desserts
1. Ice-cream sandwich

Ingredients
One of the easiest and fresh desserts you can prepare. You only need biscuits and ice cream. Of course you can prepare the biscuits and the ice cream separately and by your own, but it will take more time.
How to prepare
Take the biscuits you mostly like.
Take also the ice cream from the freezer.
Make a sandwich with 2 biscuits and the ice cream.
2. Fruit salad

Ingredients
Another fresh and easy dessert is the fruit salad. For its preparation, you will need different types of fruits. You can choose the fruits you mostly like, such as kiwi, apple, strawberries, banana, paraguayo, peach, pineapple, nectarine…
How to prepare
Take all the fruits you want to introduce in the salad.
Cut everything in the sizes you prefer.
Mix everything.
3. Crepes or pancakes with Nutella or jam

Ingredients
We also bring you a sweeter recipe that you are going to love. For its preparation, you will need these ingredients: 250 ml. milk, 125 gr. Of flour, 50 gr. of butter, 2 eggs, 50 gr. of sugar and Nutella (cocoa cream) or different jam flavour.
How to prepare
First, we will melt the butter for a few seconds in the microwave (reserve a tablespoon for later).

When the butter is already liquid, add the 2 eggs, the flour, the sugar, the milk and the butter to the blender.

We beat well until we have a homogeneous dough without lumps.

For the result of our crepes to be as fluffy as possible, we recommend that you reserve the dough for 30 minutes in the fridge covered with plastic wrap.

With the dough already ready, we put a non-stick pan on the fire that does not stick. The fire should be at medium intensity. And we add a little of the butter that we had reserved.

When the butter has already been discarded, we remove the excess fat with a little kitchen paper and pour a little of our dough with the help of a ladle.

We will let the crepe cook for a minute and when we see that the edges are already golden, we will turn it carefully and with the help of a spatula. We let it cook for one more minute on the other side and when it is golden, we remove it. We have to repeat this process with each crepe we make. 

Finally, you fill the crepes with Nutella or your favourite jam.